Kicktail vs. Pintail: Choosing the Right Longboard Shape for Your Ride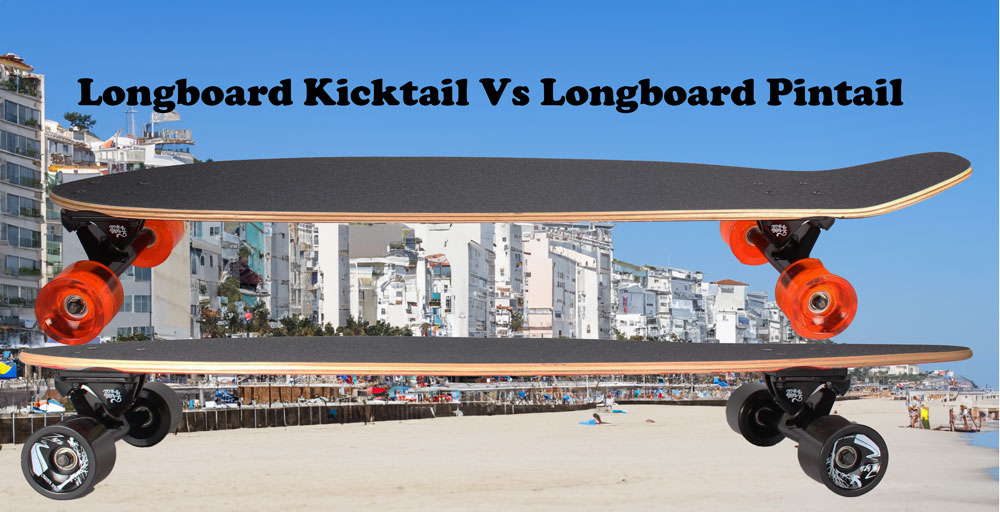 Longboarding is a thrilling and versatile sport that offers a wide range of options when it comes to choosing the perfect board. Among the many factors that influence your longboarding experience, the shape of the board is a critical one. Two popular shapes, the kicktail and pintail, offer distinct riding experiences. In this blog, we'll explore the differences between having a kicktail on a longboard versus a flat pintail, helping you make an informed decision when selecting the right board for your style.
Kicktail Longboards: Versatile and Playful
Kicktail longboards are designed with a raised, upturned tail at the back of the deck. This distinctive feature makes them highly versatile and suitable for various styles of riding:
Maneuverability: Kicktails allow for easy turns, sharp cuts, and quick direction changes. This makes them ideal for navigating tight spaces, making sharp turns around obstacles, and weaving through city traffic.
Tricks: Kicktails are perfect for performing tricks like manuals, ollies, and kickflips. Riders who enjoy adding a bit of flair to their longboarding experience often prefer kicktail boards.
Commuting: The maneuverability of kicktail longboards makes them great for urban commuting. They can handle city streets, curbs, and traffic with ease.
Freestyle Riding: If you love dancing, freestyle, and technical tricks, a kicktail board will offer you the control and agility needed for these activities.
Pintail Longboards: Smooth and Stable
Pintail longboards, on the other hand, have a sleek, elongated, and relatively flat shape that tapers towards both ends. This design serves a specific purpose, making them ideal for a different style of riding:
Cruising: Pintails excel in providing a smooth and stable ride, making them perfect for cruising along scenic routes, boardwalks, or coastal roads. They are great for relaxed, easy-going rides.
Downhill: The flat and stable nature of pintail longboards is well-suited for downhill riding. They offer stability at high speeds, making them a popular choice among downhill enthusiasts.
Carving: Pintails are known for their ability to carve smoothly through wide turns. If you enjoy the sensation of leaning into turns on a winding road, a pintail board is the right choice.
Aesthetic Appeal: Pintail boards often have artistic and unique graphics, making them popular among riders who appreciate the visual aspect of their longboards.
Choosing the Right Board for You
Your choice between a kicktail and pintail longboard ultimately depends on your riding style and preferences. Here are some factors to consider when making your decision:
Riding Style: Determine your primary riding style. Are you more into tricks, freestyle, and urban commuting, or do you prefer relaxed cruises, downhill adventures, and carving?
Terrain: Consider the type of terrain you'll be riding on. If you'll encounter a mix of tight city streets and open roads, a kicktail might be the better choice. If you'll primarily ride on smooth, open surfaces, a pintail could be ideal.
Skill Level: Riders with more advanced skills may gravitate towards kicktail boards for their trick potential, while beginners may find pintail boards more forgiving and easier to control.
Aesthetics: If you appreciate the visual aspect of your board and prefer unique graphics, a pintail's artistic designs might be more appealing.
In conclusion, choosing between a kicktail and pintail longboard involves a careful consideration of your riding style, preferences, and the type of terrain you'll be exploring. Both shapes offer unique and enjoyable experiences, so whether you're into tricks and tight turns or smooth cruises and stability, there's a longboard out there that's perfect for you. Happy riding!